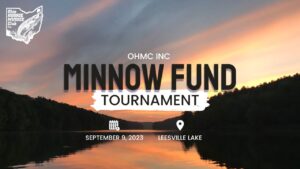 Now that Fall is just around the corner, so is our 11th Annual Minnow Fund event held at Leesville Lake on Saturday, September 9th.  Leesville Lake is the home of Ohio's muskellunge broodstock from which eggs are collected every Spring to be raised in our hatcheries until they are ready to be stocked back into the 9 muskie program lakes throughout the state.  We invite you to join us on this beautiful lake for a fun day of muskie fishing while raising money to help feed all the future giants in our hatcheries.
What's better than a day filled with muskie fishing, warm food, and great conversation?!  Keith from South Fork Marina has generously offered to keep the restaurant open for our fish check-in.  OHMC would also like to offer each registered angler a $5 credit towards any food purchase.  So, please join us and support our awesome sponsor, South Fork Marina, and share some fish stories with other like-minded anglers.
This is a single day event which will run from 7:00 am to 5:00 pm, Saturday.  The angler who submits the longest musky of the tournament will be declared the winner.  The 1st place winner and any ties will receive trophies at our 2024 Banquet.  The winner of the Big Fish pool will be based on the largest fish turned in amongst all Big Fish pool entrants and will receive all Big Fish pool money.  Ties will not be broken; the prize pot will be split evenly amongst tied entrants.  All fish must be submitted to the Tournament Director by 6:00 pm at the South Fork Marina Restaurant Deck or via the cell phone number provided the night before the event.
You can register for the event 1 of 3 ways:
Register online at

The online registration includes payment thru PayPal.

Via postal mail

OHMC, 17712 Edgewater, Lakewood, Ohio 44107

In person

Saturday morning from 6:00 am to 6:30 am at the South Fork Marina Public Launch parking lot.
Once registered, you can launch from any public launch.
The entry fee will be $20 with an optional $5 Big Fish entry pool.  All proceeds of this event will help fund the OHMC's contribution to the Minnow Fund and any extra donations are welcomed!  The statewide Minnow Fund is an integral part of the overall success of Ohio's Muskie program.
We look forward to seeing you all there!
Here are the rules for the event.
Minnow Fund Rules and Regulations
New for 2023 and going forward:
ALL fish mush be photographed on a bump board.
A to-be-determined identifier released the night before the start of the event must also be present in each photo. It will be found on our social media so be sure to follow us on Facebook (Ohio Huskie Muskie Club Inc) and on Instagram (@ohiohuskiemuskieclub). The identifier must be printed off or handwritten. No fish submissions with a virtual identifier will be accepted (i.e., cell phone image of identifier, edited images overlaying identifier, etc.).
Fish submissions not on a bump board or without the correct event identifier present in the picture will be disqualified.