Last year Mother Nature smiled on the IceBreaker outing with sunny, calm 70 degree weather, this year she had more of a frown.  Greeting 30 + degree temperatures, strong northwest winds and snow, 28 anglers braved the conditions at Piedmont lake to hopefully catch some prespawn giants.  Even though Mother Nature may have frowned, not all muskie were in such a funk with 9 fish being caught and a few more lost at the boat.
The winner of the event was David White with a fat 48″ giant but his was not the only Huskie caught.  Rich Daniels netted a 45.75″ muskie, Steve Skebe a 45.25″ , and Donald Gutshall a 42″ Huskie.  Additional fish caught were George Keyser 38″, Jessie Wolford 38″, Rick Canastrano 30″ and David White also caught a 31″ and 33″.
A really big thank you for Chad Harmon and Tim Smith running the tournament and to all those brave souls who came out on a tough day.
Our next event will be the May Madness on May 14th at Salt Fork.  This one day tournament will be the longest fish wins the tournament with two side pools, a $5 big fish pool and a $35 Total Points pool.  Look for more information in late April.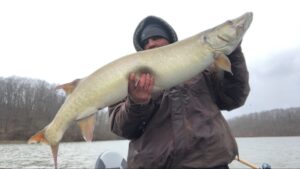 David's winning fish!