Summer Contest Results
What a fun weekend for the Summer Contest at West Branch.  Saturday was a calm nice summer day with a few weekend boaters to increase the  drama.  Sunday kept them away with fairly steady rain from 9 am until closing a 2 pm.  We had 45 anglers sign up to fish the event, with a total of 28 fish caught.   Leading the way with 8 fish, and winning not only the event but the Big Fish pool was Chase Gibson.  This was Chase's first time fishing one of Ohio's program lakes, and he was very impressed with the quality and size of the muskie.   He hopes West Virginia DNR can take a page from the Ohio book.  Chase caught his fish casting and jigging deeper waters.  Second place was captured by Neil Butara with 4 fish.  Unlike Chase, Neil was able to find his fish shallow, fishing weed beds.  Congratulations to Chase and Neil for their success over the weekend.  Here is a list of the fish reported and some pictures:
Chase Gibson 37″, 41″, 31.75″, 40.5″, 40″, 38.75″, 36.75″, 43.25″.
Neil Butara 36″, 38″, 41′, 40″
Bob Basic  43″ and 38″
Adam Boneham  37″
Phil Ringenbach  41.75″
Chris Daniels 42″
Chad Harmon 36″
Rick Thorp 37″
Tim Smith 38″
Brian Luttmer 38″ and 32.5″
Graham Hardesty  32″ and 33″
Brad Clement  42.5″
John Ringenbach  35″
Tim Grant  31″ and 36″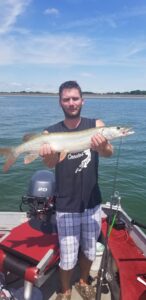 Comments