LungeFest 2022 Results
What a great day to be on the water chasing muskies.   A total of 14 muskies were caught by 9 of the 39 anglers hoping to land a giant.  The muskies were elusive at times, some still beat up by the spawn, and maybe even a few still to spawn which is crazy for this time of year.   Fish were caught super shallow and very deep.  Jabez Burford won the event with a 43.5″ muskie, just edging out Diane Lippart who caught a 42.5″ beast.  Jabez also caught 4 additional muskies of 35″, 36″, 38″ and 41.5″.  Dave White continued his string of catching a muskie in each of our events so far in 2022 by landing a 40″ muskie.  Phil Ringenbach just missed the 40″ mark by catching a 39.75″ fish and also lost a real nice one at the boat.  Others catching fish were  Bob Basic 36″, Michael Kinney 35″, Dave Archer 33″, and Jerry Rice 33.75″.  Derek Halas continued his good streak of tournament fishing by catching a 30″ and 32″ fishing out of his lucky kayak.
Here are pictures of David's 40″ fish and Jabez's winning 43.5″ muskie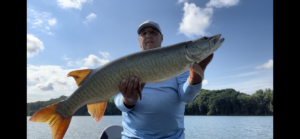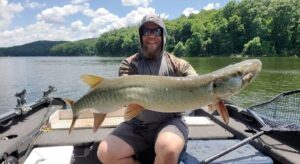 Our next event will be our Summer Contest at Pymatuning on July 9th and 10th.
Comments