Minnow Fund Outing Results
Well Mother Nature can always make things interesting.  Fishing in some wind can help concentrate the bait fish and the muskies.  Fishing in  a lot of wind can make staying on those muskies very challenging.  A total of 29 anglers proved to be up to the task as they caught 17 muskies during the 10 and one half hours of the Minnow Fund outing on West Branch.  Winning the event with a 46″ heavy bodied muskie was Drew Bennett who also caught a 40″ and 38″.   Close behind was David Simmons who caught a beautiful 44.25″ .  David along with John Proch who caught a 40.25″ and a 41.25″ challenged Mother Nature more than the rest of us by fishing from their kayaks.
We would like to thank all who attended the outing for their contributions to the Minnow Fund thru their entry fees but also for the many additional donations to the fund.
Here are the additional anglers who put muskie in the net under tough conditions:
Phil Cummings 39″
Chuck Land Jr. 43″
Joseph Zargari 35″ and 38″
Mike Sandridge 35″ and 40″
Fred Lederer 39″ and 34.5″
Kris Bennett 40″
Russ Roberts 38″
Chris Alfrano 34″
David Simmons with a solid 44.25″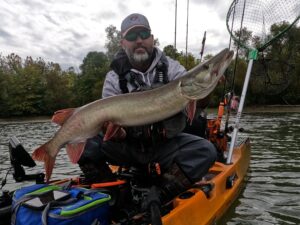 Comments